History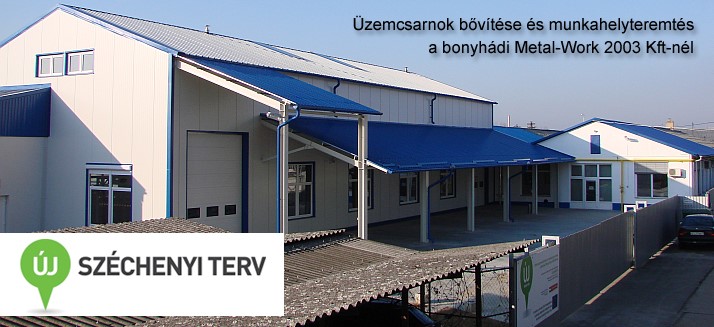 The METAL-WORK 2003 Ltd. started its work in 1999 with the purchase of the AGIE CUT 200 wire EDM machine. Due to the expanding of the market we had to expand our machinery and the number of our employees. So we purchased traditional machine tools and in 2001 an AGIECUT CLASSIS 2 wire eroding machine. The AGIECUT CLASSIC 2 was ordered directly from a Swiss manufactory with some special options. Due to them we are able to fulfil the special requirements of our customers (Mevaco Ltd.). Thanks to the two wire EDM machines we can serve our customers with precise metal forming and with great accuracy.
In 2003, we purchased another wire EDM machine, the AGIECUT CLASSIC 3, so we can machine bigger pieces (we already wired tools of 800 x 1600).
We expanded our plant with a milling machine type DMF220 Linear in 2004 which is nowadays one of the most modern CNC machining centres. We also expanded our CadCAM system with the SolidEdge and the EdgeCam CAD programs.
We acquired the AGIE Progress 3 wire EDM machine in 2005. It can machine tools of 420 mm in height with flooding. We presented this machine to the public on the MACH-TECH.
In 2007, we bought the PEPS V5.3.11 CAD-program. It can assist and speed up the programming of the wire EDM machines.
We acquired an AGIE AC Vertex 3 wire EDM machine in 2008. It enables us to machine tools with 2 µm accuracy.
In 2009, we bought a Deckel Maho DMC1035 machining centre.
We expanded our air-conditioned workshop to 620 m2 in 2010.
We expanded our hall with 500 m2 in 2011. So we are available for our customers on 1120 m2. Due to the expanding of the tools that we are fabricating we had to install an overhead crane of 2×5 tons to our new hall.
In 2012, we bought a new Deckel Maho DMC 1035 machining centre. For a faster and more accurate design we expanded our programs with the NX8.
Our company has also purchased a moulding machine of 250 tons due to the short deadlines.
We enlarged the factory with 800 m2 in 2013, so we have now a total of 1920 m2.
As good business contacts are closely connected to flexibility we are prepared with nightshifts and weekend shifts for our important customers to obviate any production difficulties that may occur.
Beyond the capital strength it is highly important for a company to get its customers satisfied. Therefore it is a strict requirement for us since the beginning to produce the ordered products with the highest quality and shortest deadlines. Our aim is to find new partners – of course to keep the former ones and to serve them fully – and the expanding of our capacity and technical background. Our company also takes care of the technical training of our employees.
The precise and accurate work is one of our strength.
Our aim is to develop our machines and technology according to the requirements of our customers.